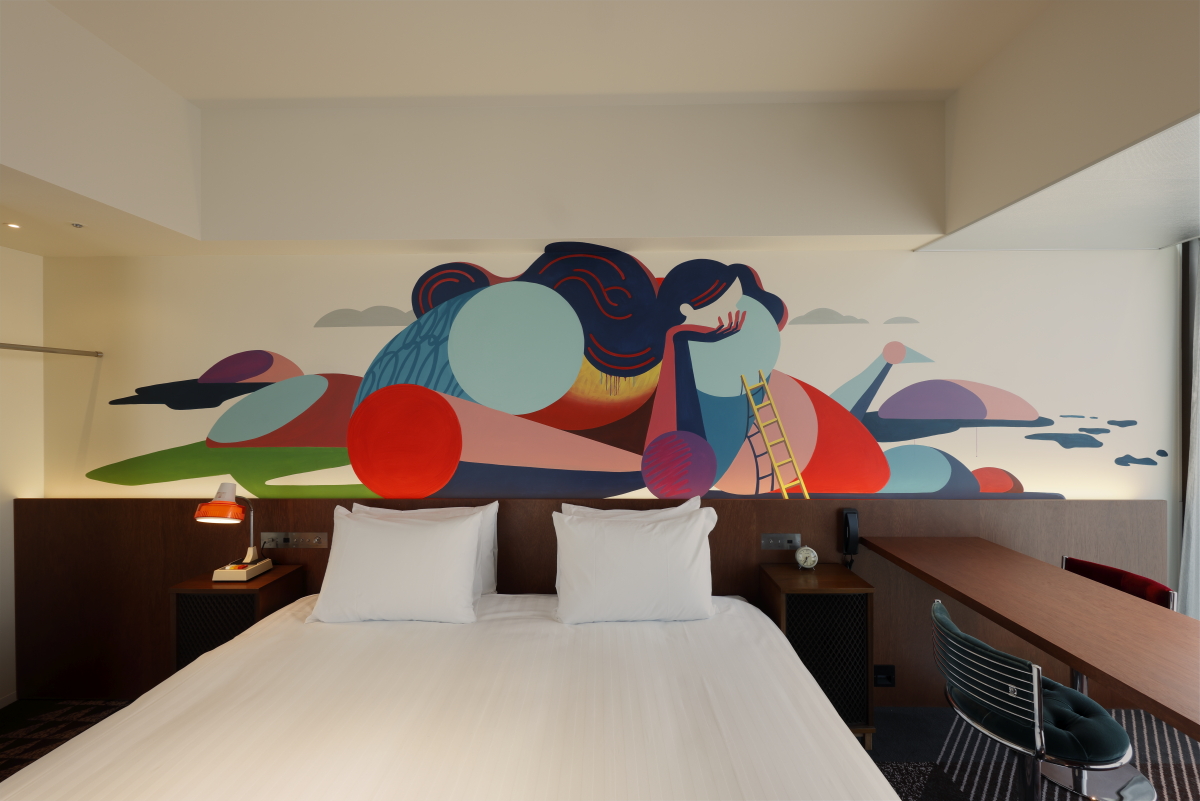 Tokyu Kabukicho Tower Hotel Groove Shinjuku, A Parkroyal Hotel
Tokyu Kabukicho Tower, consisting of hotels and entertainment facilities, opened in April 2023.
It is one of the largest scale complexes measuring approximately 225 meters in height with 48 above-ground floors, 5 basement floors, and a penthouse floor.
The upper floors serve as accommodation facilities, housing two hotel brands operated by Tokyu Hotels.
[related article] Tokyu Kabukicho Tower has opened
Hotel Groove Shinjuku, A Parkroyal Hotel, occupying 18th to 38th floors, boasts a total of 538 guest rooms ranging from 21 to 61 square meters.
The most notable and unique feature is the collection of nine artistic guest rooms called "Groove Room," designed by three artists, while the other guest rooms is characterized by a simple and modern design style.
Three artists, Yoshiaki Kaihastu, Takuro Tamayama, and Tomoyuki Washio, each created uniquely designed rooms inspired by the history and culture of Kabukicho.
Yoshiaki Kaihatsu 33rd to 35th floors each 44 square meters
Yoshiaki Kaihastu three completely different rooms. One room, inspired by the hotel name "Groove," allows guests to enjoy the sound of Kabukicho and nostalgic playlists that he collected on cassette tapes. The second room encourages guests to become collaborators in Kaihatsu's project by allowing them to take home the interior objects of the room. The third room uses packaging materials made of foam polystyrene.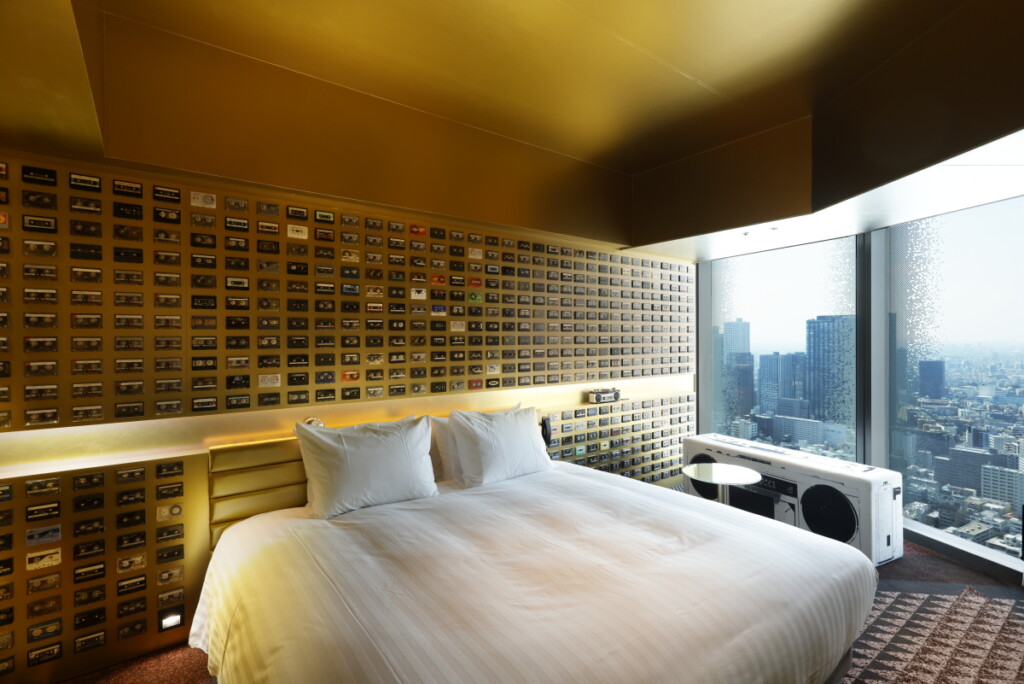 Takuro Tamayama 36th to 38th each 44 square meters
The guest rooms designed by Takuro Tamayama express an unusual sense by deviating from the ordinary everyday experience. For example, a plate with a toast and a tray sticking on the wall evoke a peculiar sensation for guests as if the floor and walls have switched places.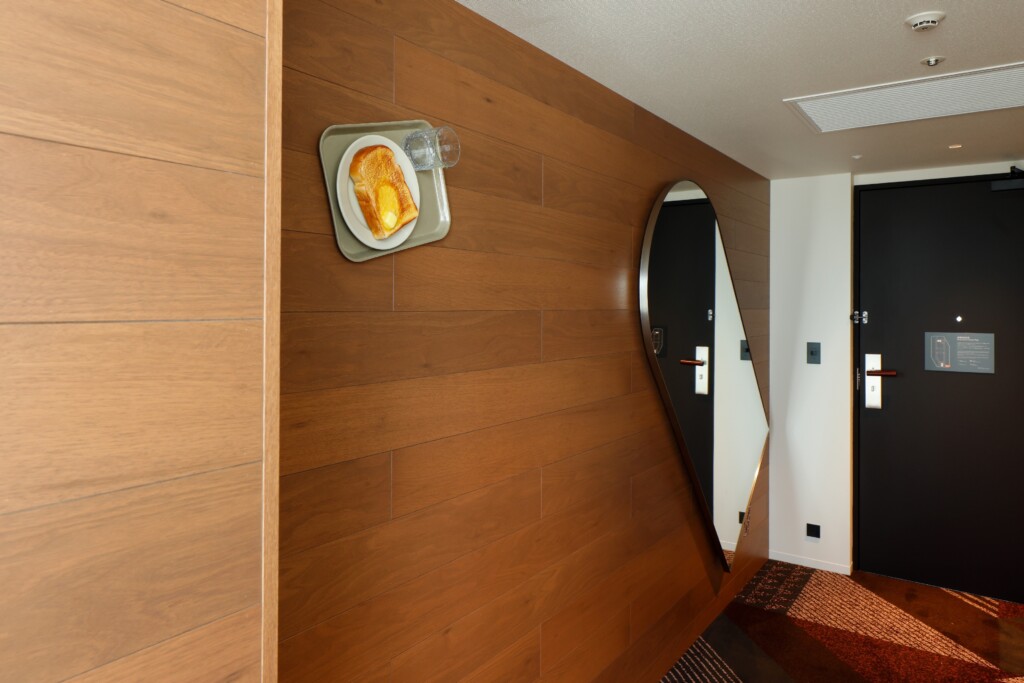 Tomoyuki Washio 30th to 32nd each 44 square meters
Tomoyuki Washio, who creates works such as illustrations and videos after leaning to paint through self-study, designed the hotel guest rooms (30th -32nd floors, each 44 square meters) inspired by an artist's studio.
In the rooms, an original character called "Te kun," inspired by a human hand, is depicted playing and traveling through the streets of Kabukicho in a mosaic tile art form.
On the wall behind the bed, the "Three Graces," characters from Greek mythology, are dynamically depicted in a non-gendered manner, reflecting the spirit of Kabukicho.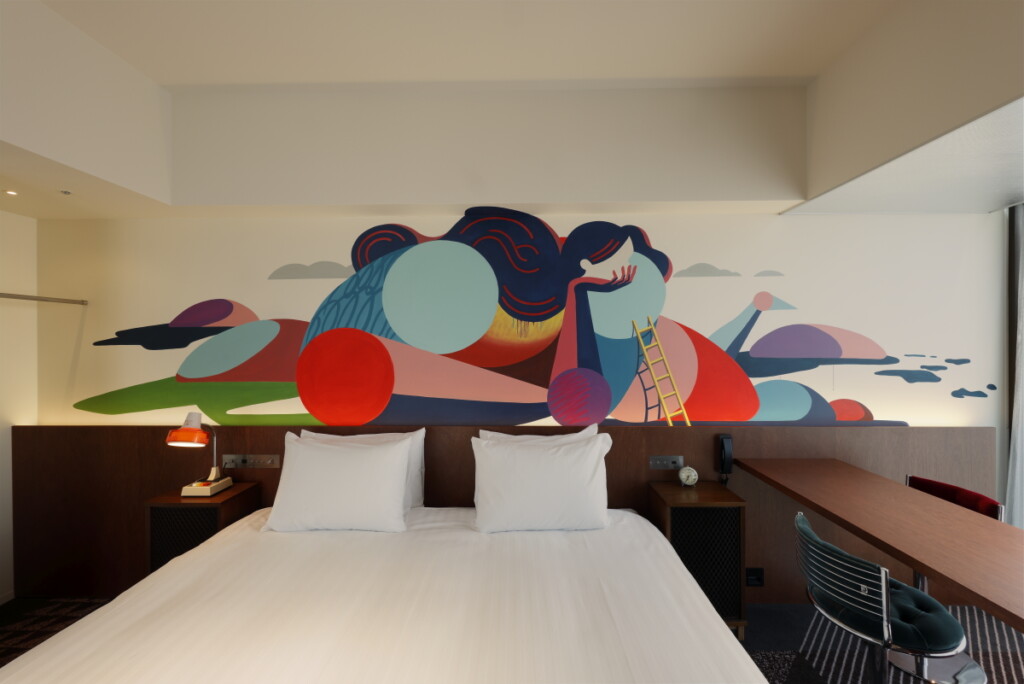 The hotel is currently offering a limited-time collaboration with the animated series Evangelion in all rooms on one floor, under the name "Lifestyle Hotel Eva," until July 20, 2023.
As part of this accommodation plan, guests have the option to choose a package where they can reserve theater tickets for the stage play "Stage: Evangelion Beyond," which is performed on the 6th floor of the tower building, for their check-in date.
Not only tourists, but also residents of Tokyo are highly interested in the new hotel, which offers exciting projects and experiences.

Hotel Groove Shinjuku, A Parkroyal Hotel
Tokyu Kabukicho Tower
1-29-1 Kabukicho Shinjuku-ku Tokyo
TEL 03-6233-8888
https://www.hotelgroove.jp/en/