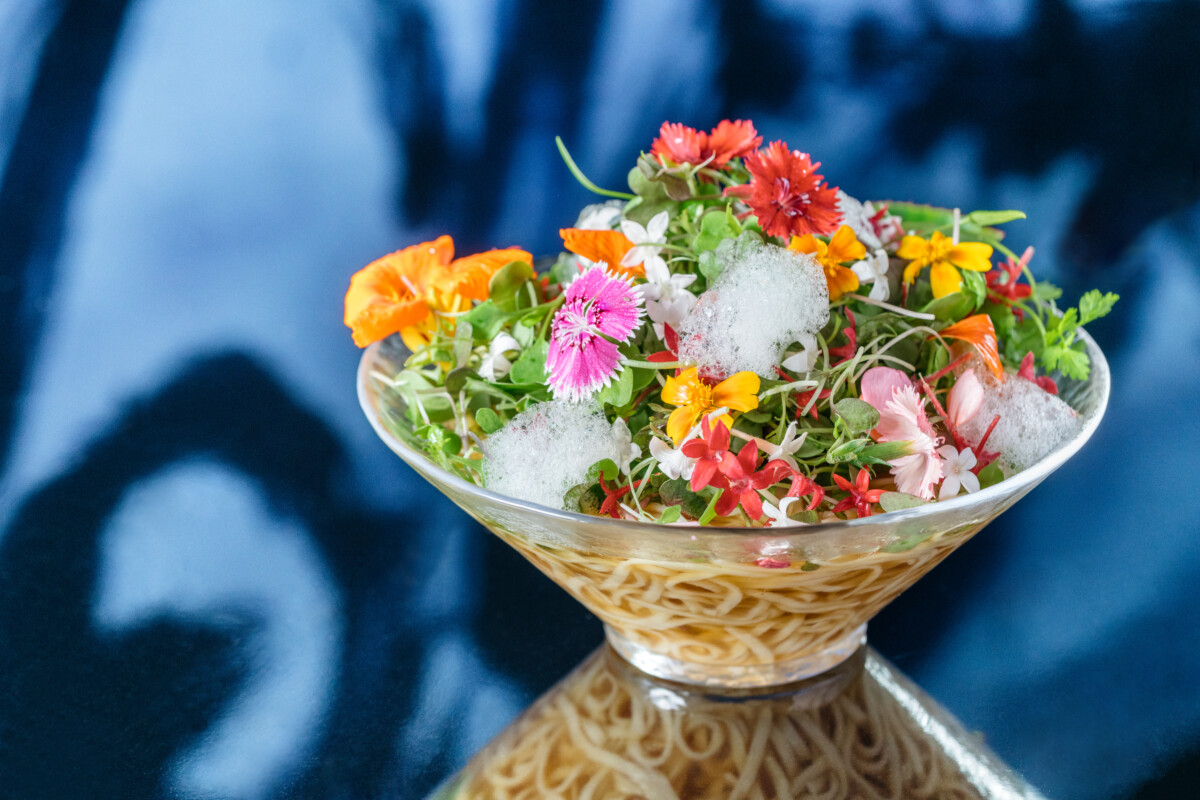 Get into digital art, vegan ramen
Vegan Ramen UZU Tokyo (UZU), in collaboration with the art collective, TeamLab, opened in October 2021 at TeamLab Planets TOKYO DMM in Toyosu.
Visitors can taste gourmet vegan ramen while experiencing digital art.
MORI BUILDING DIGITAL ART MUSEUM TEAMLAB BORDERLESS (ODAIBA)
UZU, which had opened its first restaurant in Kyoto, has now opened its Tokyo branch in an annex in front of a digital art museum, TeamLab Planets.
They offer ramen in a gallery of the annex and on an outdoor counter.
The gallery is completely mirrored, from the walls to the table. TeamLab's work titled Reversible Rotation-Non-Objective Space is featured on the ceiling.
The mirrors reflect the images to create the illusion that there are no tables and seats, despite the existence of a table and 12 seats.
Visitors enjoy ramen while immersing themselves in the artwork.
Outside, two artworks can be found, the Universe of Fire Particles Falling From the Sky and the other large, mirrored one, titled Table of Sky and Fire, which reflects the sky.
Here, visitors can enjoy the art and ramen, in a standing position.
The idea of "eating ramen while seeing art"originated from the conventional concept of TeamLab:"Visitors participate in an artwork using their bodies."
TeamLab hopes that visitors feel that eating connects us to the world, and that humans cannot live without this connection.
Ramen, ice cream made from selective ingredients
Their original menu consists of a cold "Vegan Ramen Flower" (¥1,980, tax included, same below) and a "Vegan Ramen Tea" (¥1,650).
Both include a soup with a distinct umami flavor with Rausu kelp and Japanese shiitake that goes well with homemade thick noodles made with flour from Hokkaido, blended with pesticide-free whole-grain flour from Miyazaki Prefecture.
"Vegan Ramen Flower" is made using edible flowers from a farm in Hiroshima Prefecture, which supplies these flowers to three-starred Michelin restaurants.
Various kinds of flowers, such as pansy and begonia, add different acid accents to the ramen.
The taste of the remaining soup can be changed by adding effervescent water blended with rose water.
It is so delicious that you would devour all the soup.
"Vegan Ramen Tea" is made using fine-powdered green tea by En Tea from Kyusyu. Kelp and shiitake are combined with tea to produce an unprecedentedly rich taste.
Do not miss out on their four vegan ice creams (each ¥660) made in collaboration with Picaro Eis in Kyoto.
We recommend a flavor called "White Ginger Lily": with spicy ginger, an elegant lily scent, and an amazake that enhances the rich flavor.
The chef-owner of UZU, Ryo Kataoka, said, "I did not want to make fake vegan ramen with fake ingredients such as alternative grilled pork. I aim to make updated vegan ramen, which is delicious and sustainable."
Indeed, you will not recognize that it is vegan if you do not know what it is. Chef Kataoka proves that vegan ramen could be delicious, even without animal protein.
Shop offers orchids used for artwork 
A shop called TeamLab Flower Shop & Art opened at the same time as UZU.
TeamLab Planets started a new garden artwork titled Floating Flower Garden in July 2021 and used over 13,000 orchids for this work.
The shop offers orchids used for the work (¥1,540 per orchid) and TeamLab Flowers Growing Back Bags (¥3,960). If you buy a bag from the store, you can return to the space as many times as you like and take some orchids home.
TeamLab Planets will be open until the end of 2022.
Visit this exciting spot for a new experience that stimulates your five senses.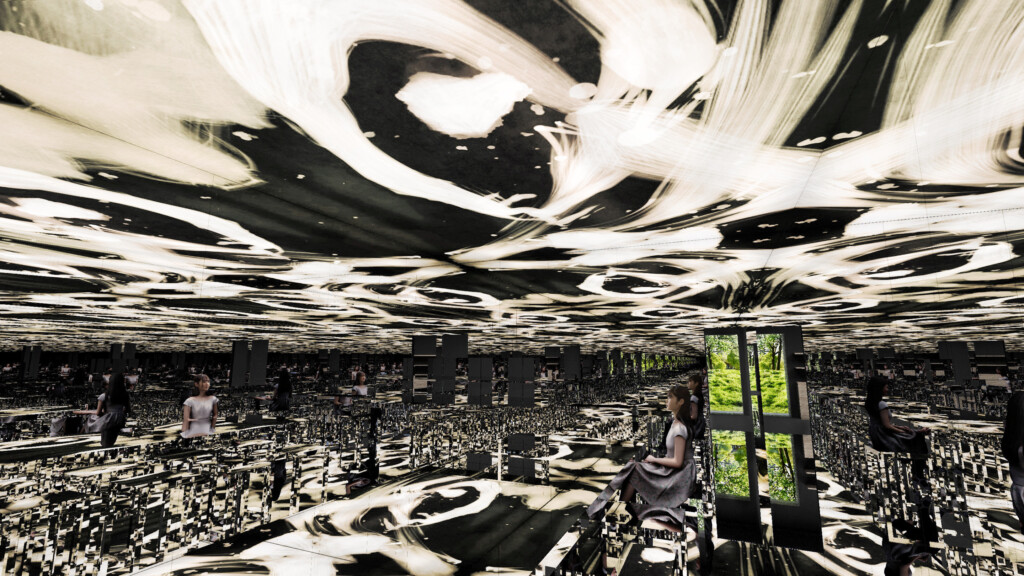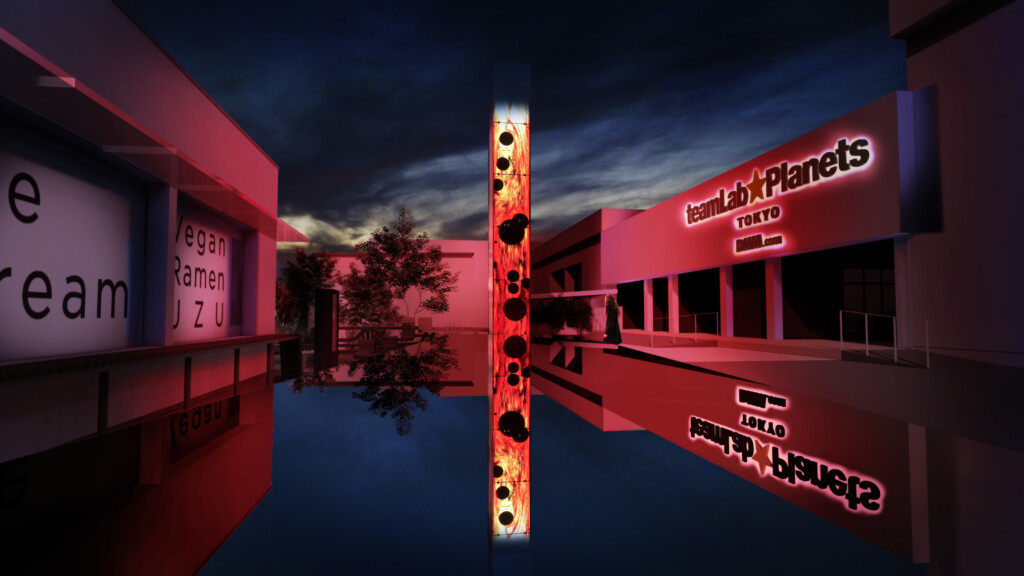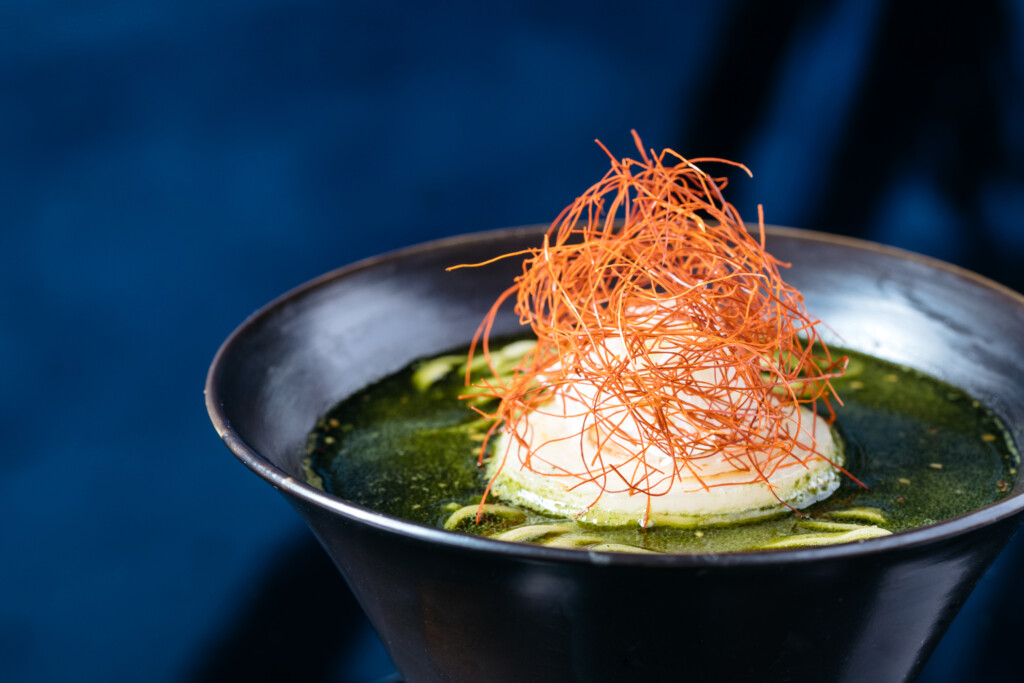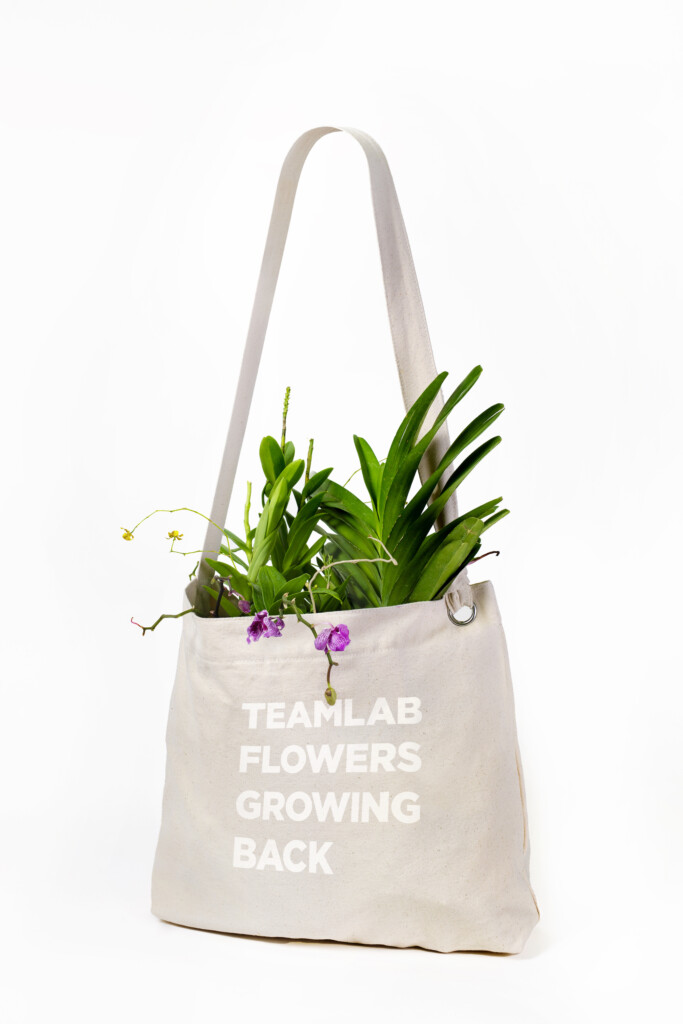 teamLab Planets TOKYO DMM
6-1-16 Toyosu Koto-ku Tokyo
teamLab Planets TOKYO DMM
10:00 – 19:00(Monday – Friday), 9:00 – 20:00 (Saturday), 9:00 – 19:00 (Sunday)
Admission until 1 hour before closing.
Vegan Ramen UZU Tokyo 11:00 – 19:00 (Monday – Friday), 10:30 – 20:00 (Saturday), 10:30 – 19:00 (Sunday)
teamLab Flower Shop & Art 11:00 – 19:00 (Monday – Friday), 10:00 – 20:00 (Saturday), 10:00 – 19:00 (Sunday)
ACCESS Yurikamome SHIN-TOYOSU
https://teamlabplanets.dmm.com